Singapore Ranked Most Ideal Country in Region by ASEAN Youths
REDHILL's 2019 ASEAN Youth Survey shows that Singapore's stability and economic prosperity makes it the most preferred country in the region to live and work
SINGAPORE, 8 October 2019 – For youths in Southeast Asia, Singapore is cited as the most aspirational country in terms of socio-economic stability. Given the chance, 63% of them would prefer to live and work there, based on insights gathered via the 2019 ASEAN Youth Survey by REDHILL.
The inaugural edition of REDHILL's ASEAN Youth Survey seeks to analyse the roles of Southeast Asian youths as drivers of economic, cultural, social and political change. The study attempts to take a snapshot of the youths' aspirations on politics, the economy, personal security, education, life choices and social media consumption – all through the lens of nearly 2,000 young people across seven ASEAN nations, aged in between the crucial 18-35-year-old demographic.
While most of the respondents are optimistic about the economic growth in their respective countries, many note a strong desire to live in a country that possesses economic prosperity and political stability. This was reflected in nearly 70% of the respondents saying that Singapore is the most inspiring nation in terms of political stability and 65% singling out Singapore for its economic growth. Additionally, Singapore's Prime Minister Lee Hsien Loong was found to be the most inspiring ASEAN head of state at 49%.
Meanwhile, Singaporeans themselves noted that – apart from their own country – they would most prefer to work in Thailand out of the other ASEAN nations, with 21% saying as such.
Additionally, Singaporean youths are politically motivated but are concerned about their system's inclusivity. To note, 77% of respondents said they would vote in the next elections, while 89% think that youth participation is relevant in the electoral process.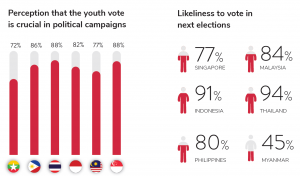 ASEAN youths are confident their vote can make an impact. Source: 2019 ASEAN Youth Survey by REDHILL
As for their personal economics, Singaporean youths are generally sanguine about their prospects. 40% of them believe that finding a job is relatively easy for them, although a nearly equal number of respondents disagreed. In terms of spending power, 62% said they could afford to spend on luxuries while 43% said that the prices of basic needs were affordable. Home ownership was also greeted optimistically with 43% thinking it was possible in the future. While significant proportions also voted negatively in these contexts it can be said that respondents largely had a positive outlook on these factors.
On a region-wide level, ASEAN youths are shown to be quite optimistic about the prosperity of the national economy but expressed frustration at possible levels of political participation and inclusivity. Other than the youth in Singapore, most participants across the region felt that their countries are not politically stable.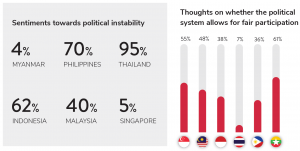 Except for in Singapore and Myanmar, ASEAN youth are frustrated by possible levels of political participation – citing political instability. Source: 2019 ASEAN Youth Survey by REDHILL
"The survey's findings suggest that ASEAN youth – having grown up during a time of rapid economic growth, fluctuating politics and greater exposure to the world via online media – are yearning for balance and stability in their lives," said Jacob Puthenparambil, Partner at REDHILL. "However, this does not mean that they'd want to take a backseat role. Instead, we see them as having vigour in wanting to instigate change by playing a larger role in their nation's direction to create sustainable and inclusive societies."