voco hotels presents its First Pop Up in Singapore and an Opportunity to win 52 Weekends of Staycations at voco Orchard Singapore
Singapore: voco hotels – a premium collection brand from IHG Hotels & Resorts – presented its first pop up in Singapore along Orchard Road from Thursday, 20 January 2022 to Wednesday 26 January 2022. Two activations were located outside ION Orchard and voco Orchard Singapore. Consumers were able to access collaboration content produced by local creatives and brands at the pop up. They were also invited to participate in a staycation social giveaway with an opportunity to win 52 weekends of stays at voco Orchard Singapore and more prizes.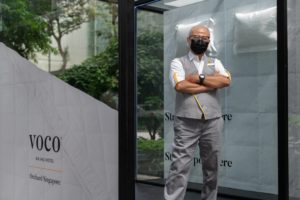 voco hotels are bold, contemporary and inviting, with playful touches throughout. The pop-up introduced highlights of a typical voco hotel room – think plush bedding and a cosy nook, which encourage guests to indulge in 'Me Time'.  
Introduced for the first time in Singapore, voco hotels bedding makes use of over 150 recycled plastic bottles, turning plastic waste into a sustainable sleep. The fabric that cases the voco hotels bedding is also produced in line with the Better Cotton Initiative to support sustainable cotton harvesting.  
The name, voco, means 'to invite' and 'call together', representing the brand's thoughtful and playful nature, and ability to offer meaningful connection. The vibrancy and playfulness of voco Hotels attracts guests who are confident to be themselves; in line with this philosophy, throughout the duration of the pop-up, voco hotels invited local creatives and brands to spend time inside the hotel room, doing what they do best. Unapologetically themselves, they used the room to create, unwind, and simply be. 
 The line-up included:  
David Yeung

| Friday, 21 January, 5pm-6pm

 
Campari Brand Ambassador, David Yeung, conducted a live cocktail masterclass, walking viewers through the cocktail conceptualisation process of one of voco Orchard Singapore's Signature Cocktails, featuring Wild Turkey Bourbon. David also forayed into the history of Orchard Road and Nutmeg—the essence that ties in voco Orchard Singapore's mission to always "Stay Interesting". 
The Rawbought team posed, pouted and lounged for an exclusive photoshoot in the brand's signature premium loungewear clothing. Sustainably made renowned for its lushness, quality and comfort, Rawbought makes staying in fashionable and fabulous, and most importantly, sustainable.  
Brandon Chong (

@branstands

)

| Sunday, 23 January, 3pm-4pm

 
Brandon Chong, Movement and Mindful Coach, Lululemon Legacy ambassador and wellness expert, conducted a 1-hour Ying Yoga Session virtually. A slower form of yoga, Yin Yoga is the perfect restorative activity when paired with mindfulness to reinvigorate, relax and refresh the mind, body and soul 
Jeffrey Kong is the Founder of Artisan Bricks, which offers Lego sculptures and workshops to clients across Singapore. Fuelled by his fervent passion for Lego, and his vision of making art accessible to everyone, Jeffrey spent his time in the voco Hotels pop-up room creating an exclusive voco Orchard Singapore Lego sculpture, modelling the architecture of the newly-opened property. Jeffrey Kong is a local artist who creates with building bricks as an art medium. The founder of Artisan Bricks loves to spread the joy of the brick with sculptures, building kits and workshops. In the live building session in the voco Hotels pop-up room, he built an exclusive model of the newly-opened voco Orchard Singapore with thousands of Lego bricks. 
Established in 2020, Peachier Studios is an eccentric design label from Singapore, founded by Lydia, Hazyra and Miyuki. The team share a similar passion for exploring crafts, textiles and prints, plus a desire to create a unique space for like-minded individuals. The Peachier team used the hotel pop-up as a space to play and shoot their latest campaign of colourful crafts and products, sharing on their IG along the way.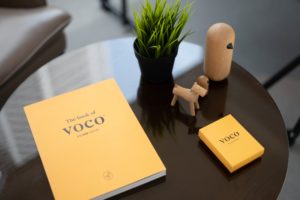 In celebration of voco Orchard Singapore's opening, the hotel will be taking one lucky winner on a full year or exactly 52 weekends of staycation at the newly-rebranded hotel.
What's more, participation has been simplified for users to enter more easily. To enter the exciting giveaway, participants simply need to like and save this Instagram post, share how they spend their "me time" and tag a friend in the comments section by 4 February 2022.
For a bonus entry, hopefuls can also post on their Instagram story with the #52weekendswithvoco hashtag and tag the account (@vocoorchardsg). If their account is private, they can send a screenshot of their Instagram story to @vocoorchardsg. Entrants must be following voco Orchard SG on Facebook and Instagram.
For more information on the pop-up and social giveaway, follow @vocoorchardsg on Instagram.  
voco hotels continues to evolve as part of its global ambition to welcome guests at 200 voco hotels in leading urban and leisure locations in the next 10 years. Testament to the rising global prominence of the brand, another three hotels will open in the coming months including voco Bonnington Dubai, voco Johannesburg Rosebank and voco Seoul Gangnam.  
***
About voco Hotels: voco combines the reassurance of a big brand with the informality and charm of an individual hotel, providing guests with a dependably premium experience. The name, voco, means 'to invite' and 'call together' originating from Latin, representing the brand's thoughtful, unstuffy and charming nature. voco's well put-together hotels combine memorable moments and high-quality touches, from indulgent amenities to big, comfy beds. Guests will always get a warm welcome during a swift check in, a comfy room perfect for unwinding and relaxing, and vibrant bar and restaurant spaces that provide plenty of opportunity to connect and socialise. For more information and to book, visit www.vocohotels.com, and stay connected with us on Facebook www.facebook.com/vocohotels, and Instagram www.instagram.com/vocohotels.    
About IHG Hotels & Resorts 
IHG Hotels & Resorts [LON:IHG, NYSE:IHG (ADRs)] is a global hospitality company, with a purpose to provide True Hospitality for Good. 
With a family of 17 hotel brands and IHG Rewards, one of the world's largest hotel loyalty programmes, IHG has nearly 6,000 open hotels in more than 100 countries, and a further 1,800 in the development pipeline.  
InterContinental Hotels Group PLC is the Group's holding company and is incorporated and registered in England and Wales. Approximately 350,000 people work across IHG's hotels and corporate offices globally. 
Visit us online for more about our hotels and reservations and IHG Rewards. For our latest news, visit our Newsroom and follow us on LinkedIn, Facebook and Twitter.